7 Types of Men's Leather Bags
   Men have charm is the kingly way, so how to make yourself attractive? The man with the watch is the most handsome, but a fine leather bag also can show the charm of men. Then before buying a bag, you should certainly know what types there are in order to match them with your style and outfit. Also, if you are constantly buying one type of bag, maybe you should consider some more types and choose the right one according to the event and style.
   Moreover, before you decide on one bag, you should think of why you need that bag and what you will store in it. Because of that, you should know the purpose of every bag and for what kind of luggage it should be used. Tablets, iPads and smaller laptops can be carried in almost every bag, however, if you are carrying a big business laptop in your duffel bag, then you need to read this.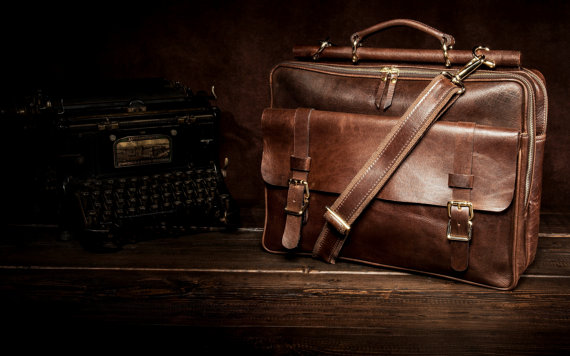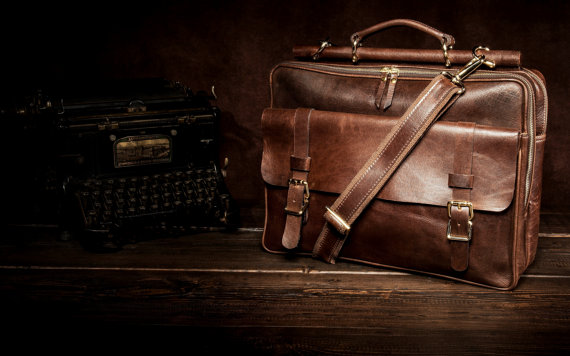 1. Duffel Bag Is Perfect for a Weekend Trip
   Originated in Belgium, the duffel bag is spacious and used when carrying a lot of luggage such as sportswear. Because of the possibility to store a lot of things, it is used when travelling or going on a one-day trip. Although it looks sophisticated, when matched with the right outfit, it can look urban and is great for men who are into street style. Moreover, it shouldn't be worn with sweatpants, but with casual clothes or a semi-business style. A duffel bag can withstand heavy luggage and rough conditions.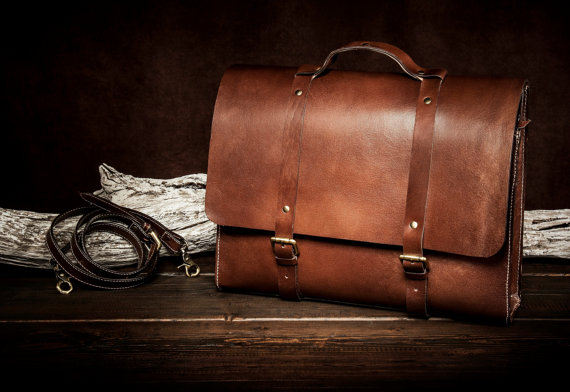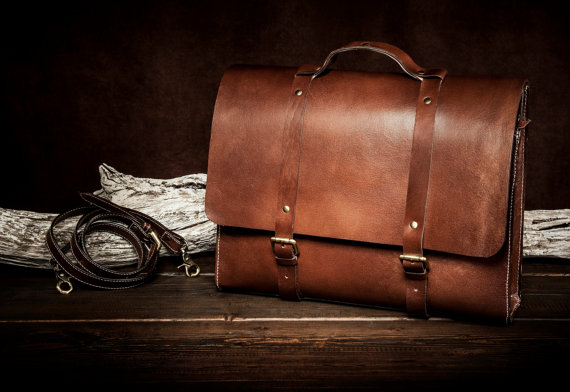 2. Messenger Bags for the Everyday Look
   Messenger bags with rectangular shape were predominantly used by messengers and couriers. That's how it got its name. People used to call it a courier bag as well. It is to be worn over one shoulder and the flap that folds over the top protects your items from rain and snow. It is great for carrying a laptop, books, documents and some other formats that require a bag with rectangular shape. Moreover, it can be worn with every style and is the best upgrade for every outfit.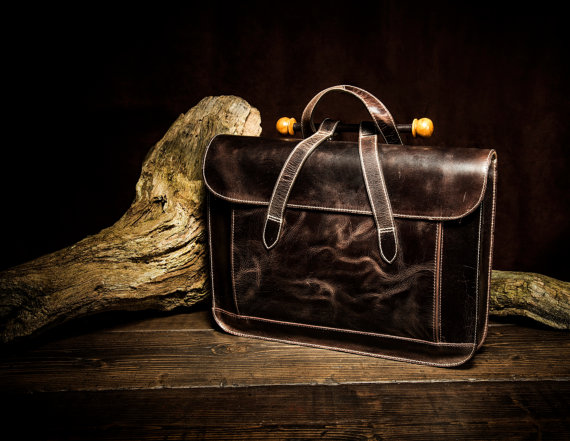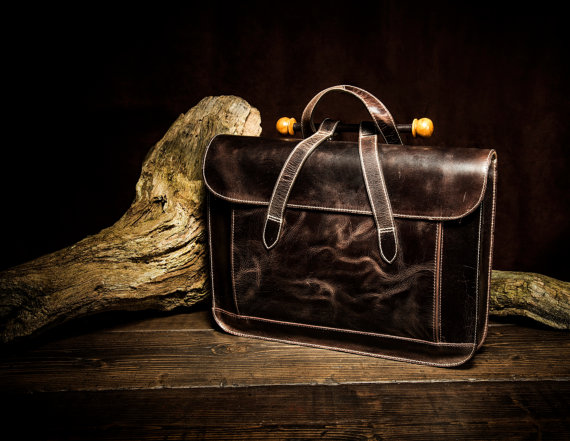 3. Leather Camera Bag
   Smaller than a messenger bag, intended for small valuables (not just a camera). Based on what its name tries to imply, a leather camera bag is a small bag created to carry your digital SLR camera. But this bag can also hold anything that doesn't have too much weight such as a cellphone, and keys. It looks and is used like a shoulder bag, but it's smaller than a shoulder bag.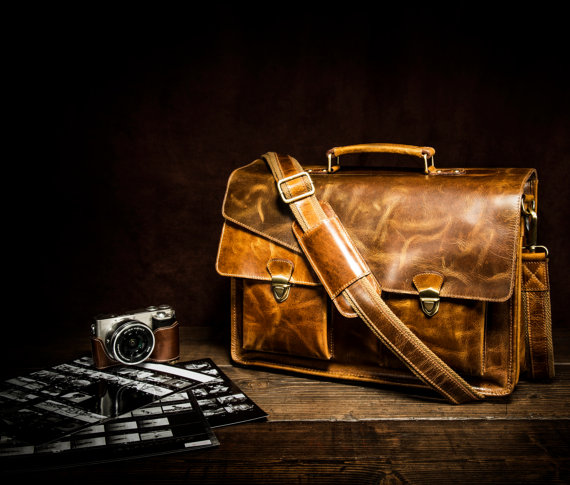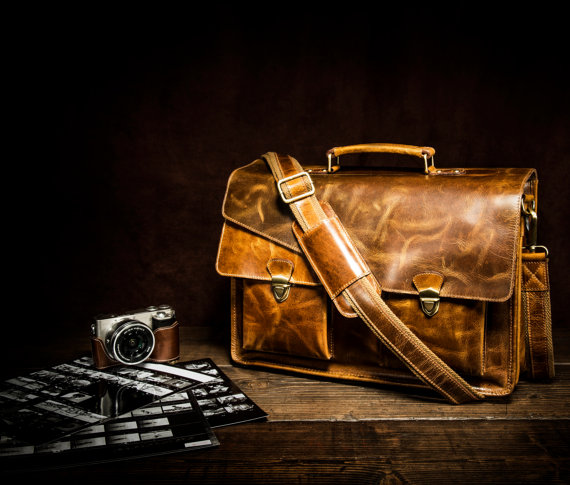 4. Stylish Leather Gym Bags
   This bag is usually confused with a duffel bag, because they look almost the same. However, the gym bag has a rectangular base, which makes it easier to carry sports equipment, and pack for a picnic or some one day trip. Also, its look is more sporty and casual than the look of a duffel bag. It is recommended to wear it with a casual outfit, however, it can be matched with any effortless look. Just make sure that the clothing items are chosen carefully.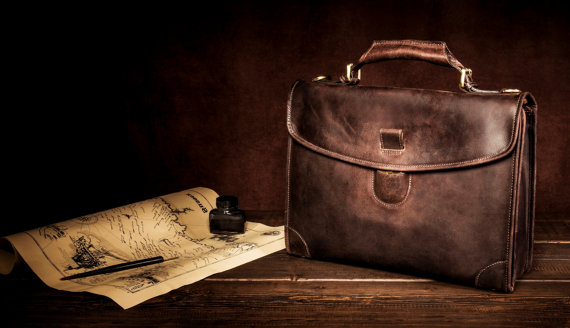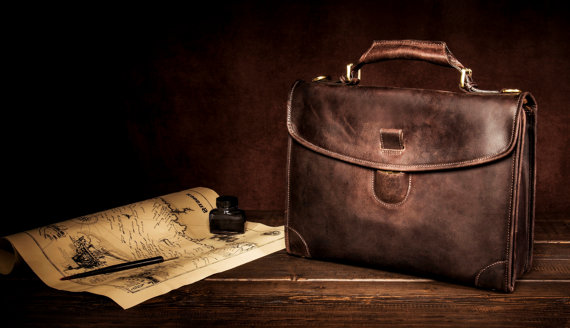 5. Leather Laptop Bag
   As its name implies, a leather laptop bag is a bag for your laptop. It is well-cushioned to make sure that your laptop and all its parts are intact even with vigorous movements or vibrations. Also, it has different compartments to store your laptop and its accessories (battery, cord, charger). In addition, there are bags that have a combined functionality to make sure that laptops have a room in them. For instance, when we say "messenger laptop bag," you expect to see a bag that looks and functions as a messenger bag. But at the same time, this bag can carry and protect your laptop.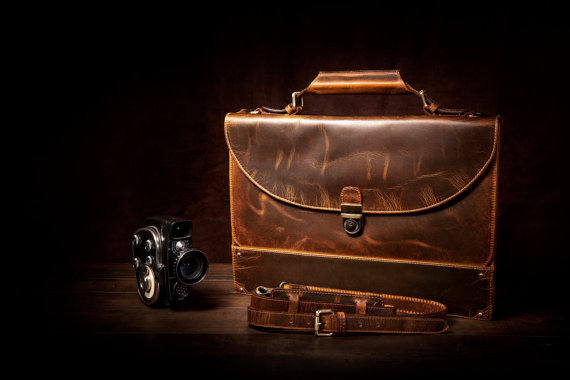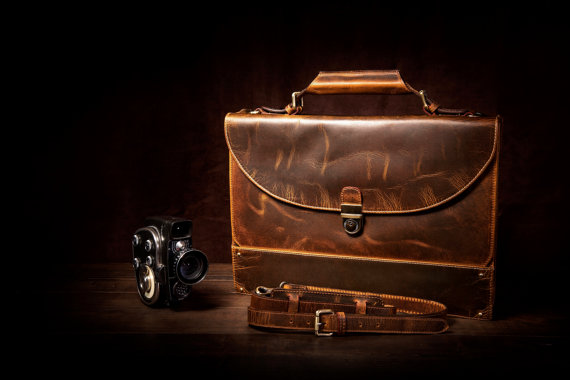 6. Satchel Upgrades the Vintage Look
The 20th century trend among university circles has lived up to all the standards of today's fashion. It is similar to a briefcase, except it has softer sides and is not recommended for carrying a heavy laptop. Usually younger people choose this over the briefcase, because it looks vintage, which is achieved by two-sided buckles and the retro look. It matches various styles, especially the experimental styles of younger generations.
If you want a business look, but something a little bit artistic, except for a satchel, you can go for a tote, which is in general a modern remake of a classical briefcase. If you are into a boyish look when going to a morning coffee or an early brunch, then you can browse for some backpacks. Moreover, backpacks have become really functional, because many of them have special compartments for laptops, ebook readers and tablets.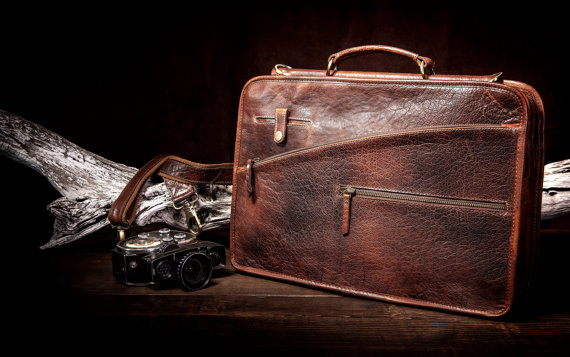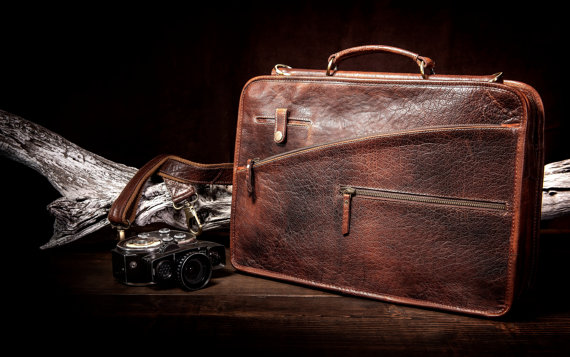 7. Timeless Briefcase
   Briefcases have always been the choice of men to match their formal or work outfit. In the past, these bags were made to resemble boxes. They had square edges, and they did not have a lot of compartments. Today, however, bag designers have given briefcases a "curvier" look. Also, if you look at a modern briefcase, there are more rooms or compartments to keep your things organized. Briefcases are much more functional now.
   A briefcase is set apart from the rest of the men's bags with its handle. It doesn't come with a strap unlike the messenger bag, and the handle is usually a rigid strap.
   Materials that are used in making briefcases are usually leather or faux leather, but there are also some briefcases that are made from fabric and other materials.
Hot sales:  leather briefcases, leather backpacks, leather handbags, leather duffle bags, leather totes, leather belts, leather satchels, leather clutches, leather purses, leather wallets, leather laptop bags, leather messenger bags, leather travel bags, leather hats, leather watch bands, leather apple watch bands, crocodile bags.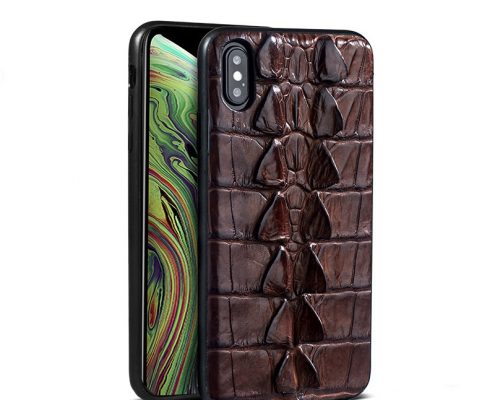 https://www.bgleatherbags.com/wp-content/uploads/2018/09/Crocodile-and-Alligator-Leather-iPhone-XS-Max-XS-Case-Tail-Skin-Brown.jpg
800
800
@bruce99gao88@
https://www.bgleatherbags.com/wp-content/uploads/2018/11/VANGOSEDUN-Leather-Bag-Logo.png
@bruce99gao88@
2018-10-26 04:18:02
2018-10-26 04:18:02
Best iPhone XS Max Leather Cases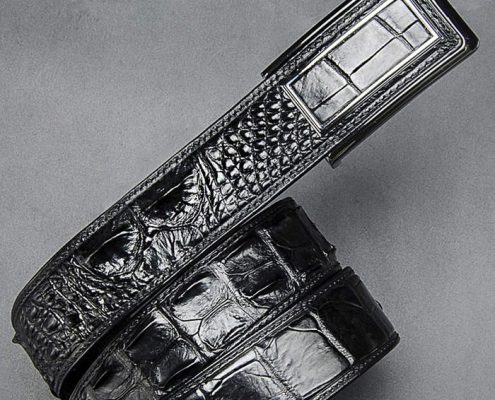 https://www.bgleatherbags.com/wp-content/uploads/2017/08/Crocodile-Belt-Art.No-0123.jpg
700
700
@bruce99gao88@
https://www.bgleatherbags.com/wp-content/uploads/2018/11/VANGOSEDUN-Leather-Bag-Logo.png
@bruce99gao88@
2017-08-29 14:41:58
2018-10-04 16:52:02
Crocodile Belt and Cowhide Belt which one is better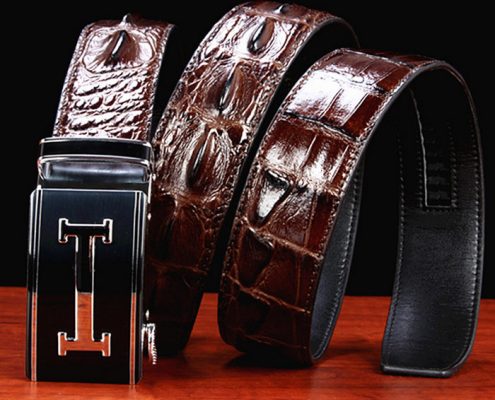 https://www.bgleatherbags.com/wp-content/uploads/2017/08/Crocodile-Leather-Belt-for-Blue-Pants.jpg
700
700
@bruce99gao88@
https://www.bgleatherbags.com/wp-content/uploads/2018/11/VANGOSEDUN-Leather-Bag-Logo.png
@bruce99gao88@
2017-08-22 03:26:04
2017-08-22 03:26:04
What Color of the Crocodile Belt Matches to the Blue Pants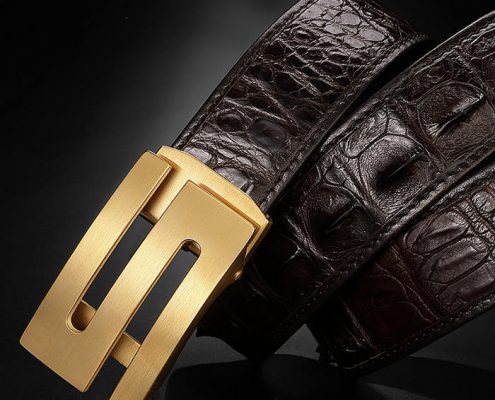 https://www.bgleatherbags.com/wp-content/uploads/2017/08/Crocodile-Belt-Art.No-0012.jpg
700
700
@bruce99gao88@
https://www.bgleatherbags.com/wp-content/uploads/2018/11/VANGOSEDUN-Leather-Bag-Logo.png
@bruce99gao88@
2017-08-16 03:29:47
2017-08-16 03:29:47
How to maintain the crocodile belt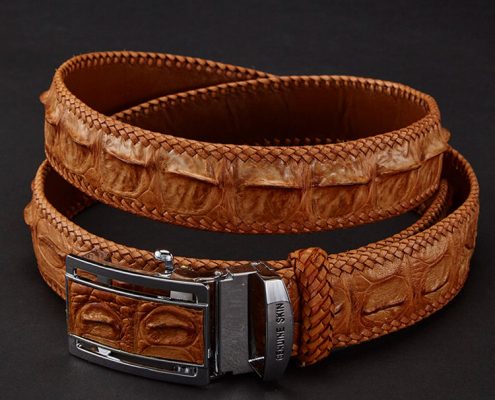 https://www.bgleatherbags.com/wp-content/uploads/2017/08/Crocodile-Belt-ART.NO-009.jpg
750
750
@bruce99gao88@
https://www.bgleatherbags.com/wp-content/uploads/2018/11/VANGOSEDUN-Leather-Bag-Logo.png
@bruce99gao88@
2017-08-13 05:33:24
2017-08-13 05:33:49
Why does the crocodile belt crack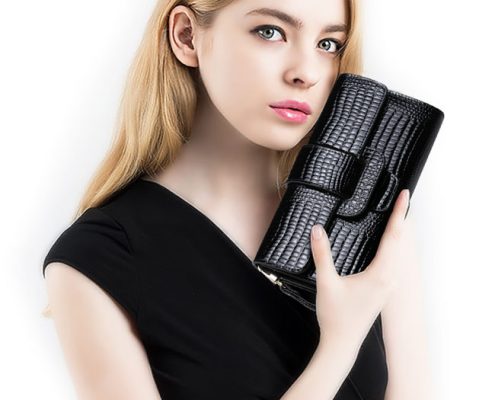 https://www.bgleatherbags.com/wp-content/uploads/2017/08/High-quality-PU-Bag.jpg
650
650
@bruce99gao88@
https://www.bgleatherbags.com/wp-content/uploads/2018/11/VANGOSEDUN-Leather-Bag-Logo.png
@bruce99gao88@
2017-08-04 14:21:52
2017-08-04 14:28:47
Concave Shape Handbag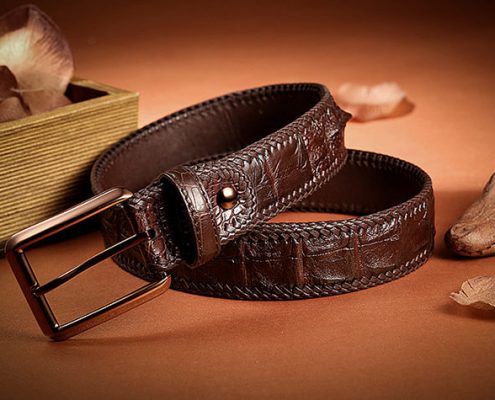 https://www.bgleatherbags.com/wp-content/uploads/2017/08/Brown-series-crocodile-belt.jpg
475
720
@bruce99gao88@
https://www.bgleatherbags.com/wp-content/uploads/2018/11/VANGOSEDUN-Leather-Bag-Logo.png
@bruce99gao88@
2017-08-04 13:59:48
2017-08-04 14:22:58
Crocodile Leather Belt Color Matching Knowledge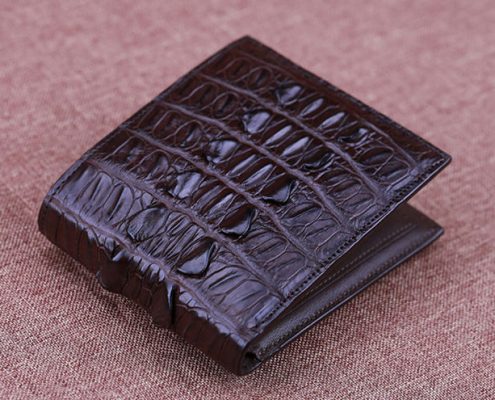 https://www.bgleatherbags.com/wp-content/uploads/2017/08/How-to-Clean-the-Crocodile-Leather-Wallet.jpg
495
700
@bruce99gao88@
https://www.bgleatherbags.com/wp-content/uploads/2018/11/VANGOSEDUN-Leather-Bag-Logo.png
@bruce99gao88@
2017-08-02 15:00:25
2017-08-02 15:00:25
How to Clean the Crocodile Leather Wallet